---
Last Updated on November 14 2022, by Ray Phelan
From blog posts and social media content to essential office work and emails – the written word is the most prevalent type of content found online.
Statistics suggest that professionals who made 2.5 times as many grammar mistakes as their colleagues failed to progress in their careers.
Additionally, if you're just learning how to start a blog, poor grammar and readability scores can hinder both the trust you can build with your audience (and your search rankings).
If you want to eliminate all these unconscious mistakes, it's essential to have the best grammar checker to help you. A grammar tool can help you correct spelling mistakes, improve your grammar, and write sentences that are easy to read.
I have used every tool on this list and am currently in the top 1% of Grammarly users – with over 7 million words checked and counting.
To help you make the right decision, I ranked and reviewed the 13 best online grammar checkers.
These reviews are based on features, ease of use, plagiarism checkers, accuracy, readability methods, the use of AI, and more.
Let's get started.
Disclaimer: Please note, I may receive affiliate compensation for some of the links below at no cost to you if you purchase a paid plan. However, these are the best tools I have tested for checking your grammar and improving your writing. You can read my affiliate disclosure in my privacy policy.
Table of Contents
What is the Best Grammar Checker?
Here are my top picks for the best grammar checker to use this year.
Best Overall Grammar Checker For Professionals and Students ($30/Month).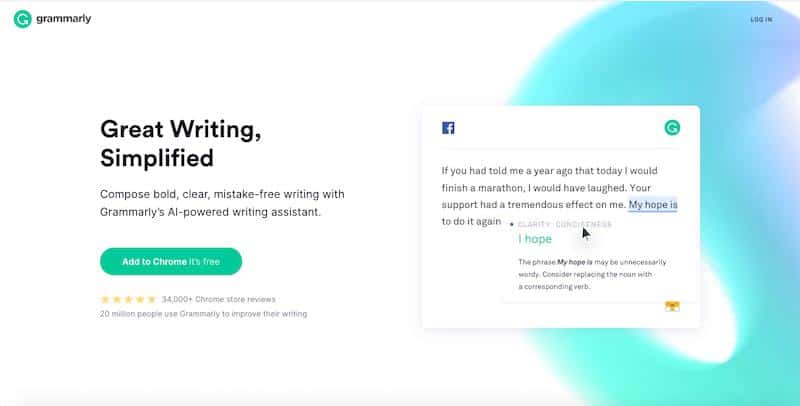 Grammarly is the most popular grammar checker and enables you to improve your writing through proper grammar, punctuation, spelling, and better word choices.
Bloggers, students, and working professionals can all use Grammarly to improve their writing style and tone.
Its powerful integration tools allow you to use Grammarly inside of everything from Google Docs and Gmail to Microsoft Word and WordPress. It's also available as a browser extension for Firefox, Edge, and Chrome.
Plus, it efficiently proofreads your work and provides instant corrections and suggestions to make your text error-free. It also provides explanations for corrections and tips to help you learn the nuisances of grammar and write more accurately. One of the most significant advantages of Grammarly is that it comes with in-built plagiarism checking features too.
Key Features:
Free Version – It provides a capable free version that helps casual writers correct basic grammar errors and spelling mistakes.
Tone Detector – Grammarly can analyze your word choice, punctuation, phrasing, and capitalization to tell you if your message sounds friendly, concerned, confident, or something else.
Mobile Synonym – It suggests more appropriate synonyms in real-time when you type anything on your smartphone.
Pros:
It offers a user-friendly, clean, and simple user interface.
Grammarly is available in various forms, including web-based app, browser extension, desktop app, keyboard for smartphones, add-on for Microsoft, and more.
Grammarly premium also comes with a plagiarism checker.
It also helps you fix contextual errors and sentence structure.
Grammarly also allows you to find the tone of the text.
Their grammar corrector mobile app is available on iOS, Android, and Google Play.
Pricing:
You can try Grammarly for free and their paid subscription cost $30 per month.Try Grammarly
Suitable Option For Writers Who Need To Work With Multiple Languages ($20.97/Month).
Ginger is capable of correcting all types of textual errors, including spelling mistakes, sentence structures, style, and punctuations. It also allows you to write in one language and translate it into another language. However, the free version is just limited to 350 characters.
Although, after signing up, you can get access to the free Chrome plugin. It will give you access to the Ginger writer application, where you can easily paste the content to check errors.
It also offers a mobile application through which you can catch and fix errors in emails, text messages, and social media posts. Moreover, Ginger works efficiently with MS Word, but it's not compatible with Google Docs.
Key Features:
Multi-Language Support – With translation support for 40 languages, it allows users to work with multiple languages.
Auditory Feedback – Ginger's Text-To-Speech (TTS) feature enables students to learn word pronunciation and meaning efficiently.
Customizable Interface – You can change the toolbar display attributes, including font style and background color based on your preferences.
Pros:
The free version comes equipped with three writing tools, including an editing window with translation, a thesaurus, and a dictionary.
Premium version offers a "Personal Trainer" to help users improve their English. It evaluates your writing style to provide personalized practice sessions.
It highlights errors and offers solutions with context to help you understand and improve your content.
It also identifies errors in your emails.
The free version offers basic grammar and spelling checks.
Pricing:
It costs around $20.97 per month. The annual plan would cost you $7.49/month billed as one payment of $89.88 per year.
Best AI Writing Assistant ($8/month).
Linguix is an AI-based writing assistant that gives you writing recommendations as a free Google Chrome extension.
Their grammar checker has over 3,000 AI-based corrections, 700+ advanced checks, and 9 million typos that they check in their database. In addition to their grammar tool, they provide writing style guidelines to help you improve your tone and style over time.
Key Features:
Grammar Checker Chrome Extension – This add-on is totally free and you can upgrade to their $8/month plan when paid annually.
AI Editor – Uses top notch AI technology to check for grammar, spelling, and punctuation errors.
Performance Reports – Linguix tracks your progress and provides reports to help you understand the aspects of your writing that need to be fixed.
Content Templates – For business account users, they provide reusable content templates to replace everyday typing tasks.
Pros:
Free chrome extension has a lot of features.
Can share documents with their teamwork settings.
If you have a unique tech stack, they can create a custom integration for your business.
Has a white labeling program.
Pricing:
They have a free Chrome Extension.
You can upgrade to their Premium Plan for $8 per month (paid annually).
For their Business Plan, you pay $20 per user per month.
Meant For Creative Writers Who Want To Improve Their English Writing Skills ($19.99 – Desktop Version).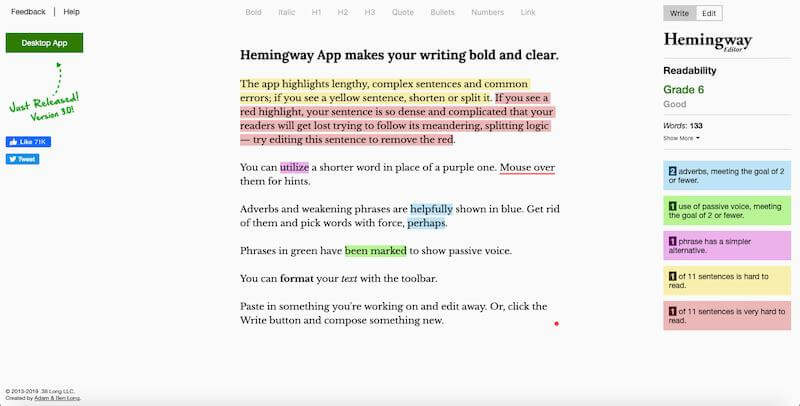 Hemingway Editor is a capable tool for writers who want to take their writing skills to more refined levels. The grammar tool aims for more straightforward and clearer sentence formation.
When you enter your text into the tool, it labels sentences as "hard to read" or "very hard to read" to simplify complex sentences for your readers. More than a grammar correction tool, Hemingway is a writing style checker that enables you to write more reader-friendly and engaging content.
Key Features:
Desktop Version – It's available for both Mac and Windows through which you can validate your content even when offline.
Readability Grade Levels – It leverages the Automated Readability Index to judge your text's grade level to help you write reader-friendly content.
Passive Voice – It discourages the use of passive voice, complex phrases, and excessive usage of adverbs.
Pros:
It offers a distraction-free and straightforward layout to access the content easily.
Its online version is available for free.
The distraction-free desktop version also allows you to write efficiently.
While writing, it automatically alerts about complex or hard sentences.
There is no word limit, which is an excellent advantage for book writers.
The spelling checker and punctuation checker are both excellent.
Pricing:
The desktop version is available at a one-time fee of $19.99.
Suitable For Developers Who Need A Free Grammar Checker Tool For Their Websites (Free).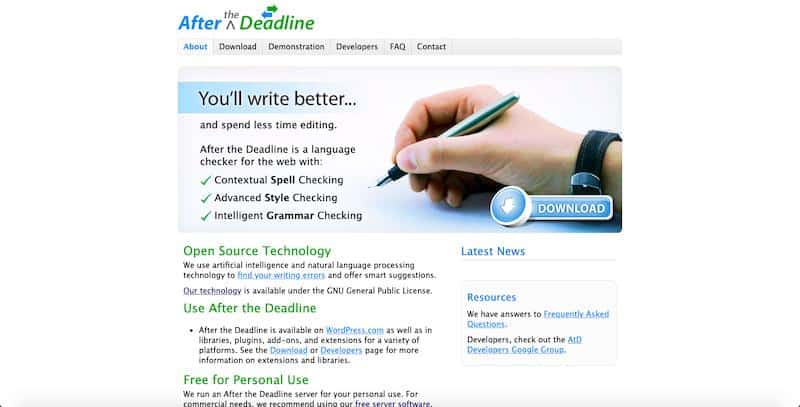 'After the Deadline' is a great option to keep your writing error-free. The free grammar checker tool helps you fix spelling errors, contextual errors, and sentence formation efficiently. It also provides style suggestions to help you improve your writing style.
Developers can also leverage its open-source code and embed it in any application to achieve a certain level of textual quality on any website. On top of that, it offers powerful customer support with OpenOffice.org suite to help users write error-free content.
Key Features:
WordPress Plugin – Install After the Deadline as a WordPress plugin to directly check the spelling and grammatical errors in the web editor.
Error Explanation – It explains the reason behind errors for better understanding.
Flexible – It's a web-based app so that you can use it on any platform easily.
Pros:
Apart from OpenOffice, it also supports Windows Live Writer, BuddyPress, and more/
It's available for free for personal use.
Its spell checker is also available in French, German, Portuguese, and Spanish.
After the Deadline also detects misused words.
It helps with advanced styling and contextual spelling checks.
Pricing:
'After the Deadline' is entirely free.
A Good Option For People Looking For A Cost-efficient Grammar Checker ($6.66/Month).
WhiteSmoke is one of the most cost-efficient grammar checker tools available. The premium version allows smooth integration with Windows, MS Office, Mac, and Gmail. It also comes equipped with unique tools like mistake detectors and correctors. Plus, it offers video tutorials and error explanations to help you understand the reasons for corrections.
WhiteSmoke comes in two paid versions. The first one is more affordable at $5 per month, and the premium version costs $6.66 per month. It also offers a freemium plan, but it's limited to only 250 characters, suitable only to check small text messages or social media posts.
Key Features:
Pre-Built Templates – It offers over 100 pre-built templates that you can use instantly to write letters and documents in correct formats.
Style Checker – It offers suggestions to enhance the content based on the user's writing style.
Tutorials – WhiteSmoke comes with video tutorials to help you understand grammar laws and work on your weaknesses.
Pros:
Its automated translator service supports over 50 languages.
Paid plans also offer an efficient plagiarism checker.
In their blog section, you can find a "How to Write" segment to learn about writing different types of documents.
WhiteSmoke also supports iOS and Android devices, where users can review the correction suggestions before making the changes.
It supports multiple browsers, including Safari, Firefox, Opera, Chrome, Outlook, and so forth.
Pricing:
Its premium version costs $6.66 per month.
Best For Writers Looking For An Open-source Grammar Checker Solution With Multi-language Support ($19/Month).
LanguageTool is a grammar checker solution for editors, proofreaders, and writers who work with languages, including Spanish, German, French, Polish, and Russian. It also offers a customizable dictionary where users can easily add most often used words found in a traditional dictionary.
The online tool also offers browser extensions for Google Chrome and Mozilla Firefox. You can also use the extension for Google Docs, LibreOffice, and Microsoft Word. It allows users to leverage the agility of keyboard shortcuts to check documents quickly.
LanguageTool has an advanced algorithm capable of recognizing similar language variations. Its paid plan enables users to write with more precision and clarity. For instance, you can even detect and correct the wrong gender in your sentences.
Key Features:
Capable Free Version – Free version of the software offers a limitation of 20,000 characters per individual check and 40,000 characters per individual check for the enterprise version.
Keyboard Shortcut – It offers various keyboard shortcuts for faster working.
Personal Directory – You can use this directory to find personal words that are not readily available in a traditional dictionary.
Pros:
It supports over 20 languages.
The customizable personal dictionary helps you weed out unconventional words from the spell check/grammar that you use frequently.
Enterprises and publishing houses can leverage its developer API access to achieve the desired level of content quality.
It has a community of users to assist with any doubt in its forum.
LanguageTool offers an easy-to-navigate and clean user interface.
Pricing:
The paid plans start from $19 per month.
Useful For Writers Who Need In-depth Feedback On Writing Style ($70/Year).
ProWritingAid is an excellent grammar checker tool, developed to help you become a better writer. If you are a fan of Grammarly, then you will find ProWritingAid's capabilities at par with it. It's capable of identifying and correcting grammar, spelling, punctuation, and style issues to help you write better.
It offers 20 different writing reports that you can click one by one. This feature allows you to execute editing without any hurry. For instance, you can first edit the document for any spelling errors, grammar, or style. And later on, you can check the document for any repeated phrase or word.
The good news is that it also offers a separate report to identify sentence structures or cliches in the content. The suggestions in these reports will help you understand the nuances of writing and write more engaging sentences.
Key Features:
In-depth Writing Reports – It provides extensive reports based on your writing style to validate and gauge the quality of your writing.
Detailed Analysis – It offers detailed readability analysis to help you write reader-friendly content.
Cost-Efficient – It's more cost-efficient than other premium tools on the market.
Pros:
It offers numerous reports to help you edit your content more efficiently without getting overwhelmed.
The lifetime subscription of the tool is available at a reasonable price of $240 only.
It offers smooth integration with Scrivener, a word processing program.
Its WordExplorer feature helps you find the right words to place in a sentence.
It highlights replaced and repeated words to make your writing more precise and professional.
Pricing:
The monthly plan costs $20 per month, while the yearly plan comes at $70 per year. You can also make a one-time purchase at $299.
For Users Who Need A Free But Capable Grammar Checker Tool (Free).
Scribens offers a simple-to-use user interface that writers can leverage to gauge their grammatical errors. It provides a "Statistics" feature through which writers can evaluate the number of sentences, paragraphs, words, and length of sentences. You only have to enter the content in the software, and it will immediately highlight the errors with correct suggestions.
It also highlights "awkward sentences" that are likely to sound and look better after rephrasing. Scribens also helps in fixing the redundancy and fluff content by reducing repeated words. Its "Vocabulary Enhancement" feature allows writers to replace common words with more accurate and better-sounding words.
Key Features:
Dictionary – Leverage its dictionary feature to find the meaning of words, synonyms, and definitions.
Extensive Integration – It helps you check your content on various platforms, including Gmail, Yahoo, Hotmail, Facebook, LinkedIn, Twitter, forums, and blogs.
Statistics – Offers detailed stats on your writing, including word count, sentences, and paragraphs.
Pros:
Its service is available for free with unlimited usage.
Scribens is compatible with multiple browsers, including Safari, Chrome, and Firefox.
You can easily integrate Scribens with MS Excel for Mac and Windows.
It offers extensions for Safari, Firefox, Chrome, MS Office Suite, Libre Office, OpenOffice, and Google Sheets.
It also offers an API that you can integrate with any website within minutes to help keep the quality of content intact.
Pricing:
Scribens is a free tool.
Most Suitable For Beginners Who Need A Simple User Interface ($25).
Grammar Slammer is for writers who are looking for a simple tool to keep their writing error-free. The tool looks like a simple web page that enables users to efficiently search for grammatical and editing rules to write better sentences.
Apart from offering stylistic, grammatical, and spelling suggestions, it also provides a wide range of linguistic information to help you improve your writing style considerably. You can also easily fix common writing oversights with Grammar Slammer. However, it's not available as a web-based application – you have to download or purchase the software.
Key Features:
One-Click Answers – You can get a detailed explanation of your mistakes using a single click.
Word Integration – Offers powerful integration with MS Word.
Spell Check – Its spell check always enables you to write correctly.
Pros:
Grammar Slammer is compatible with Mac, Windows, and Linux.
It offers seamless integration with MS Word application to help you edit documents efficiently.
The user interface is simple and easily navigable.
It provides a comprehensive reference to grammar rules to help the writer understand the basics of grammar.
All its plans are reasonable, and you can purchase them after making a one-time payment.
Pricing:
Its one-time payment plans start from $25 and range up to $49.
Suitable For Both Beginners And Professionals Who Want To Write Engaging Content ($14.99/Year).
Spell Check Plus is an intuitive grammar checker tool that makes grammar checking efficient and beneficial in the long run. It doesn't rely solely on fast editing but focuses more on educating the writer about the nuances of English language writing.
Plus, it allows you to understand the reasons behind mistakes easily and prevents you from repeating the errors. The good news is that it comes with a freemium version for necessary grammar checking features. That's why it's perfect for both beginners as well as professional writers.
Key Features:
Process-Writing Strategy – It educates the user about each correction to help them learn English easily.
Full-Screen Editor – It allows you to edit your content without any distractions or notifications.
Difficult Error Detection – Spell Check Plus is capable of detecting difficult errors and writing mistakes, including confused words, words with similar punctuation, capitalization, and more.
Pros:
You can use their online grammar check features with multiple browsers, including Firefox and Chrome.
Its free version is capable of detecting basic spelling errors and grammatical mistakes.
If you're a learner, then you can leverage interactive grammar exercises to learn grammar rules.
It allows you to summarize errors into categories to help the writer understand the reason for errors more efficiently.
Pricing:
The yearly subscription costs $14.99.
Suitable For Both Students And Teachers To Proofread Content (Free).
Virtual Writing Tool is a free grammar checker natively designed to enable web-based ESL teaching. It allows you to check spellings, punctuations, and grammar quickly. Also, it comes powered with a modified Language Tool system that helps both learners and teachers become efficient proofreaders through an intuitive mistake editing game.
Moreover, it allows teachers to automate proofreading and editing tasks to ease the workload and give feedback to students more efficiently. The constant feedback will enable teachers to assign assignments efficiently without worrying about evaluating the assignment. On the other hand, It allows students to learn ESL independently.
Key Features:
Switch Layout – You have the option to see feedback displayed under text or to the right of the word.
Hypertext Narrative – It allows you to create an accurate hypertext narrative and publish it online through HTML with jQuery and as an iframe.
Random Error Checker – This tool will help you improve vocabulary, spelling, and grammar.
Pros:
It's capable of correcting contextual spelling, grammatical errors, and pronunciations.
Virtual Writing Tool can identify conversational and academic vocabulary, cliches, field-specific vocabulary, power words, and sentence target structures.
It allows users to retrieve feedback histories and print to monitor ESL learning in a better manner.
It supports speech recognition to enable hands-free usage and check the pronunciation.
You also get access to IELTS academic writing practice tests, where the tool evaluates your scores.
Pricing:
It's a free tool.
An Efficient Tool For Book Writers To Edit Manuscripts ($30/Month).
AutoCrit is most suitable to take care of the needs of a novelist and book writers who struggle with completing the manuscript without any errors. It's a cost-effective solution that helps in saving a lot of time through automated editing tasks. You can leverage the saved time to focus on ensuring the quality of your content.
It helps in identifying each writer's writing style and provides suggestions based on that to add value to writing. AutoCrit also enables you to get rid of excessive usage of adverbs, filler words, cliches, and phrases. One downside is that it only runs on browsers and doesn't support offline editing of documents.
Key Features:
AI-Enabled – Its AI engine helps you curate genre-specific editing suggestions to help writers edit the manuscript without losing the context.
Compare Your Manuscript – You can easily compare your manuscript with content available online.
Step-by-Step Recommendations – It enables improvement in 20 steps by allowing you to edit each type of error one-by-one.
Pros:
Its Pacing and Momentum analysis helps you create more engaging content.
You can also choose the genre with which you want to compare your content.
Its Score and Fingerprint features help writers track the progress of their editing.
It analyzes the text using six steps, including dialogue, word choice, strong writing, repetition, fiction comparison, pacing, and momentum.
It instantly highlights the areas where you require editing.
Pricing:
It offers two paid plans, starting from $30 per month.
For Professionals Who Want A Fast Grammar Checker ($11.29/Month).
PaperRater generates editing results within a few seconds after you send the text. It leverages AI and data science technology for a deeper analysis of your sentence structure for real-time processing and text analysis. To use PaperRater, you don't even have to sign-up or download any software – it allows you to get started right away.
This cost-efficient grammar checker is suitable for writers and students who want to write an error-free text while meeting error-free submission deadlines. Besides grammatical errors, it also validates punctuation errors, word usage, spell check, passive voice, sentence length, and plagiarism.
Key Features:
Grendel – It's AI algorithm Grendel offers helpful writing tips to help you make your content error-free and engaging.
Vocabulary Builder – It assists with definition, word suggestions, and usage of words in sentences.
Supports Multiple Formats – PaperRater supports content import in multiple formats, including doc, Docx, Txt, and RTF.
Pros:
It evaluates your content thoroughly and rates based on your writing quality.
It comes equipped with a plagiarism detector.
You also get relevant suggestions for mistakes in real-time.
It provides grammar exercises to help you hone your English grammar.
Pricing:
It costs $11.29 per month.
How Do You Choose the Best Grammar Checker? [Infographic]
What is a Grammar Checker?
Correct use and delivery of the English language is of utmost importance since it's one of the world's most spoken languages.
After all, over 1.5 billion of the world population speak English and, and more than 90% of the US population use English every day. Some other popular languages include Spanish, French, and German.
However, sometimes we end up making plenty of grammatical errors while writing and delivering content. In fact, Microsoft went ahead and compiled a list of 10 of the most common typing errors we make in the English language. Some of them are missing commas, spaces, incorrect capitalization, incorrect subject-verb agreement, and more.
Unfortunately, so many times, we realize the error after sending an important email or a text.
While detection is challenging for the naked eye, Grammar checkers make it easy and seamless. These tools are computer software that helps you weed or grammatical errors in your emails, texts, presentations, essays, and so forth.
They are powerful computer programs that can help you identify and remove spelling mistakes, words used in wrong contexts, incorrect verb forms after auxiliary, and more.
Today, businesses are using these tools to communicate in an error-free way, thus boosting their professionalism and market image. Apart from the business domain, they are widely popular in the education sector as well. Some of the most popular ones are Grammarly, Hemingway Editor, Grammar Slammer, and more.
How Do You Use Grammar Checkers?
These tools are quite easy to use, and most of them work the same way. Once you understand how one of these works, you can use any tool you want.
Let's demonstrate how to use this tool using the example of the free plan from Grammarly:
In the first step, use your browser and visit the page of Grammarly. Most of the tools, like Grammarly, also offer free Google extensions.
Once you log in, you'll get redirected to this page, where you have to click on the "New" option to start proofreading with Grammarly. You can either type your content directly on the page, copy it from another document, or simply upload it.
Based on the content, the errors get displayed on the right-hand side. This feature can somewhat vary in different tools. Grammarly provides an 'Overall score,' based on the correctness of your article. You also get a feature that points out things like clarity, engagement, and delivery of your article.
You can correct the highlighted errors quickly on the Grammarly text editor itself.
Grammarly, like many other tools, also has a premium, paid plan. These plans are capable of identifying more errors than the freemium plan.
What Should You Look For in a Grammar Checker?
The features you're looking for in a grammar tool will vary depending on your requirements. However, there are a set of features that you'll always need from such a tool, no matter what.
Here are some of them:
1. Extensive Compatibility.
For convenience, you should be able to access your grammar checking tool irrespective of the OS or device you use. Take Grammarly, for example. It's a great tool that offers extensive compatibility and is available as a desktop application for Windows and Mac. It's also compatible with iOS and Android, and you can also add it as extensions for Chrome, Firefox, and Edge.
2. Translation Capability.
You may need to communicate with your audience in a language other than English. Ginger is a great tool that can correct your grammar mistakes and translate your content into more than 40 languages.
3. Overall Score Display.
This feature helps you understand how well prepared your document is. A high 'overall score' lets you realize your content is good to go, while a low score tells you there is room for improvement. For example, tools like Grammarly and WhiteSmoke offer users very accurate scores.
4. Document Statistics Generation.
There are many scenarios where documents have to follow a lot of standardizations and formats. To know in advance if the document you prepared is compatible or not, an in-depth study of some statistics comes in handy.
That's why it's essential to go for a tool that helps you identify numbers like word count, average word, sentence, and paragraph lengths, average reading time, and more.
5. Typo Corrections.
Writing often involves frequent typo errors that may not always get caught and corrected by grammar software. Things like punctuation mistakes may not even be picked up in word processors. That's why it's important to opt for a tool that's capable of identifying even the most minute errors and correcting them quickly.
6. PDF Compatibility.
We often need to deal with documents in PDF format. Therefore, getting a tool that can work on, edit, and save these documents is a great idea. The good news is that most of the tools on this list come with this capability.
7. Third-Party Integrations.
Using a grammar checking tool that integrates extensively with third-party applications can save the users a lot of time and effort. ProWritingAid is an excellent example of a grammar tool that provides integrations with applications like Word, Outlook, Google Docs, Scrivener, and Final Draft.
If you want to use one of these tools to improve your blogging skills, make sure that it integrates seamlessly with WordPress.
Executive Summary.
With grammar checkers, editing and proofreading your content is no longer a hassle. These amazing tools can do it for you (while improving your writing).
However, all the tools have different features and capabilities. No tool can meet all the requirements of a writer. However, think about your writing needs and your expertise to zero in on a tool to use.
If you're on a tight budget, you can use free tools like Scribens or Virtual Writing Tool.
But if you're looking for the best grammar checker on the market, go with the premium version of Grammarly.
Which of these grammar checkers are you planning to use, and why? Give me your feedback below.
---
Last Updated on November 14, 2022 by Ray Phelan
Ray Phelan